infrastructure mode
 Infrastructure mode is a method of communicating via a wireless LAN access point. A wireless LAN client communicates with other wireless LAN clients and connects to a wired LAN via a wireless LAN access point.
 In ad-hoc mode, there is a restriction that communication cannot be performed between other wireless clients while communicating between two wireless clients, but in infrastructure mode, between any other wireless clients Communication is possible.
 Communication between wireless clients and connection to the wired LAN can be performed from all clients at the same time, so it is very convenient. Generally, wireless LANs are built in infrastructure mode.
* To connect to a wired LAN, a wireless access point must be connected to the wired LAN.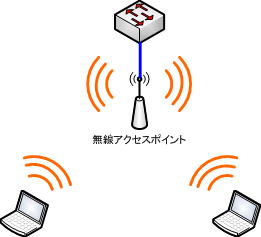 ad hoc mode
 Ad-hoc mode is a method in which wireless clients communicate with each other without going through a wireless LAN access point. In ad-hoc mode, once any two wireless clients start data transfer, data transfer between other computers will not be possible.
Since it does not require a wireless LAN access point, it is easy to build a network, but it lacks scalability and is not suitable for networks with many clients.
 Also, if you want to connect to a wired LAN, you must configure one of your wireless clients to act as a router. Although it has the advantage of keeping initial costs down, this method is not normally used in corporate networks.